Often never seen or heard, or thought of until something goes wrong, the Estates Maintenance team are always there to provide service 24 hours a day, 7 days a week, 365 days a year. On a daily basis they work to ensure the estate runs smoothly and theatres and wards stay open to patients so they can get the care that they need and to enable staff to do their jobs.
The team receive roughly 1,000 calls for help each month; from sorting heating levels to roof leaks and blocked drains. Since the COVID-19 pandemic, the regular services that happen on a day-to-day basis have continued and some jobs such as maintaining Medical Air provision to the hospitals have been made even more critical.
Steve Rowe, Senior Estates Operations Manager, Gloucestershire Royal Hospital said: "Since the outbreak of COVID-19, we've stepped up the amount of people on- call at any one time and reorganised our working patterns to ensure there are always enough people with the right skills on hand should the unexpected happen. We've also faced challenges from suppliers of essential equipment because many local services suppliers have been operating on reduced capacity and are furloughing staff."
He describes one job that the team recently completed that demonstrates just how essential the team are to the COVID-19 response, "A colleague contacted me to say switchboard had reported an alarm with the Medical Air plant. On arriving to site we found the Medical Air Compressors were not running and the site was on the emergency reserve cylinders. This type of alarm is not one we take lightly, Medical Air is vital for patients particularly those on Ventilators/CPAP in high dependency units and also new born babies on incubators, it is also used in Operating Theatres to drive the surgical tools. At this point in time with COVID-19, this incident was even less welcome. We investigated the cause and fortunately with a little tender love and care we were able to resolve the situation by performing a total isolation of the plant and a controlled restart."
Other jobs directly related to COVID-19 include the creation and erection of protective screens for reception areas. Ben Smyth a Maintenance Assistant at Cheltenham General Hospital has been busy creating erecting screens throughout the hospital in order to help protect staff and visitors. He says, "Each barrier takes about four hours to do and so far I've done 25. An external company was offering to do these for us, but by using the skills we've got in house, we've been able to do it cheaper and in a more flexible way."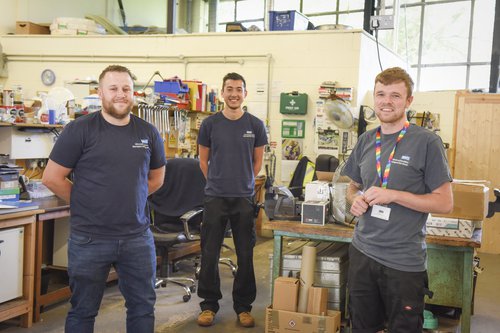 The teams have certainly been working longer hours to ensure they get the jobs done. Jose Guerra Campo, an Electrical Technician also based at Cheltenham Hospital said: "Although there is lots of work to do because of COVID-19, the other work doesn't stop either and they are generally the jobs that people don't see. We will always need to maintain water systems, pumps and lighting, that doesn't go away. We have however, had to learn more about PPE and give consideration to how we do things."
Jose reflects that "we have a really nice group of people in the team, there is a good atmosphere and everyone gets on which certainly makes the job more enjoyable.
Steve concludes that: "We like to think we play our part in keeping the hospital machine well-oiled and in good working order. This can sometimes be stressful and is made all the more difficult sometimes due to lack of resources, investment of plant and equipment, but it's essential to ensuring the continuous availability of the hospital environment to enable patient care."
You may also be interested in...
A day in the life of Medical Engineering
7 Oct 2020, 2:33 PM
Hospitals use a wide-variety of medical equipment every day in the diagnosis and treatment of patients. From the basic thermometer…
Sterile Services vital role in hospital surgery
12 Aug 2020, 2:53 PM
Every day, roughly 230 patients have an operation at Cheltenham General Hospital and Gloucestershire Royal Hospital. It's a figure that…